Six top tips for new online sellers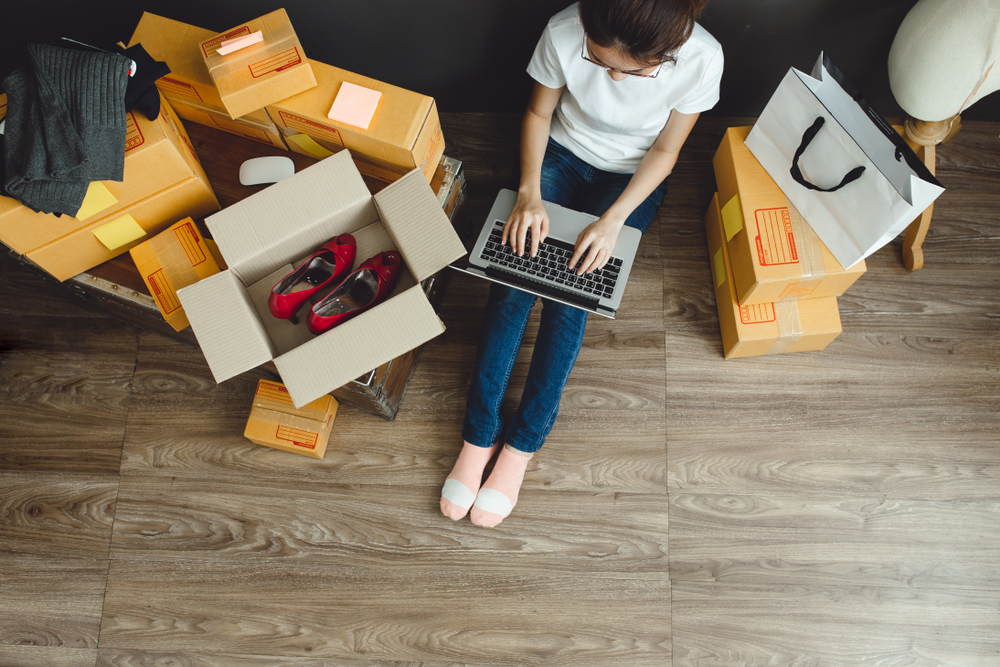 Getting started as an online seller can be exciting and daunting in equal measures but having a gameplan goes a long way towards a smooth, successful launch.
Here are our top tips to help you get your new ecommerce business off to a flying start.
1. Pick the right platform
Your selling platform is the cornerstone of your online business – the most important of all ecommerce tools. It's where you'll send your leads and cinch your sales. So, you've got to get it right.
There are plenty of options out there with different pros and cons. Are you going to sell on your own website, an online marketplace, or a combination of the two? Do you have a big enough budget for a custom site or are you starting off with templates?
These are the questions only you can answer, so give them thoughtful consideration. Then do your research to find the ecommerce platform that suits your budget, your business model and your plans for the future.
2. Hone your brand
Branding is an important part of any business. There are loads of theories about what brand actually is but let's keep it simple: it's how your customers perceive you. By building a consistent, authentic brand, you're creating an identity that's recognisable, relatable and trustworthy.
Design and copywriting elements should be consistent across every audience touchpoint, and you need to demonstrate your authenticity. For instance, a brand that markets itself on its green credentials needs to make sure that every aspect of the business – the shipping, the packaging, the products – are as eco-friendly as possible.
Another important part of your brand is to make sure its trustworthy. Of course, you need to make sure your site – particularly the payment system – is safe. And you need to signal this to your customers. Good design, quality images and error-free copy help demonstrate your reliability.
3. Nail your digital strategy
To the uninitiated, a digital strategy can seem daunting. SEO, social and advertising are all specialist areas and, if you've got the budget, investing in a specialist isn't a bad idea. After all, you're an online seller, so this is likely how you'll bag most of your business.
However, as a new online seller, you may be managing most aspects of the store yourself. That's fine – you can still set yourself up for success with a little bit of planning.
For the SEO, make sure you're following best practice. This festive SEO guide contains everything you need to know. And, like a puppy, it's not just for Christmas: the core advice there works in all seasons.
With social media and advertising, don't bite off more than you can chew. Try to prioritise what you think will be most effective. Then, review the success, tweak things and experiment to improve.
Most importantly, plan out in your strategy what techniques you'll explore, how much time you can dedicate to it, and how you'll develop as you become more established.
4. Understand the customer journey
Speaking of your digital strategy, make sure it's working towards your ultimate goal of increasing revenue. Many new ecommerce stores make the mistake of becoming enamoured with writing lengthy blog posts or carefully curating their Instagram while losing site of the bigger picture – selling stuff.
Blogs and social media are great, but they're just the mouth of the sales funnel. They're there to draw potential customers in.
Once someone is on your website, keep them there. Direct them, via the products, to the checkout. You want people to come from your blog and social assets to your store, not leave your store to scroll through social media.
As with most things, this is an ongoing process. As your store evolves and you collect more data you can refine the sales funnel to make it more effective, ensuring that the digital journey your customer takes is simple and purposeful.
5. Perfect the payment process
Perhaps the most important part of the online journey is the payment process. This is where a would-be customer decides whether or not they're going to commit to the sale. As a result, the friction can be very high.
Give an indecisive customer a reason to back out and they'll take it: a clunky checkout, unexpected costs, a slow payment.
So, what you need to do is choose your payment processing provider carefully. Then, test the process again and again to make sure it works as it should.
Finally, your checkout page should be stripped back to the bare minimum. Think about that sales funnel – you want your customer to stay focused on the path to purchasing, so don't encourage them to click away.
6. The bottom line
This leads us nicely to the sixth point – protecting your bottom line.
Of course, your main aim is to make money. Perhaps this isn't the revelatory insight you were hoping for, but it's surprisingly easy to lose sight of this when you're occupied with all the other parts of launching an ecommerce store.
Sometimes new online sellers worry too much about the other elements and forget to prioritise the business. Or they're so focused on sales that they offer discounts and operate at a loss, hoping in vain that their new customers will remain loyal once they hike the prices (spoiler alert: they won't).
Yes, sales are great. And yes, discounts can work. But your business model must be commercially sustainable. Focus on providing value for your customers, getting your pricing strategy right, budgeting properly and protecting your margin.
Bonus tip: selling overseas
If you're selling overseas, or buying stock from international suppliers, it's also really important that you have a currency strategy in place.
Some banks and payment providers offer pretty lacklustre exchange rates, which can then eat into your revenue. You may also be exposed to currency volatility and unpredictable cash flows, which can cause all kinds of headaches.
At Currencies Direct, we offer excellent exchange rates and a range of tools to help you maximise returns and protect your profits. You can call us for a free, no-obligation chat to find out how we can help. Get in touch with our team on Business@currenciesdirect.com or call +44 (0) 20 7847 9400.
Select a topic: